| | | |
| --- | --- | --- |
| Welcome | | You are not currently logged in. |
| | | |
| --- | --- | --- |
| | | |
| | | |
| | | |
As the Town of Brookline struggles to deal with its fiscal budgetary concerns during a national economic crisis , the Brookline Fire Department is forced to once again defend itself from those who are using this crisis as an opportunity to force reductions in essential personnel. This department is currently operating at minimum NFPA staffing levels and is under threat of further reductions. The NFPA is the national authority on standards for fire department operations. NFPA Code 1710 establishes minimum staffing levels for fire departments and saves lives. The Town of Brookline needs to ensure that its fire department continues to conform to national standards for the protection of firefighters and citizens.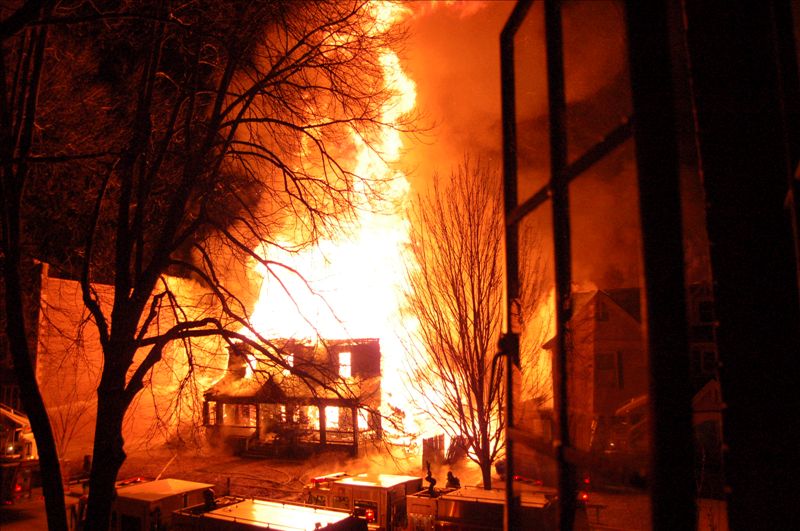 Who is the NFPA?
The National Fire Protection Association (NFPA) is a non-profit organization established to create standards of operation for fire departments throughout the country. The codes written by the NFPA are considered the standard that fire departments are expected to meet. These codes include everything from safety equipment worn by fire fighters, apparatus and equipment used in the fire service to minimum staffing of a career fire department. These codes not only protect fire fighters, but also protect citizens by giving cities standards of operation that are expected to be met. NFPA codes are not laws, but rather standards of quality to ensure the health and safety of everyone affected by any fire department.
NFPA guidelines are set up based on research performed by trained members of the association. Scientific research, such as fire behavior in different environments and how different synthetic materials affect the burn process, is used in part to establish these guidelines. Previous history of fire department responses across the country can help the NFPA to have standards of how many firefighters it takes to effectively perform necessary tasks. Independent studies performed by groups like the American Heart Association help the NFPA in writing codes regarding EMS response. NFPA is such a respected organization in the fire department community that many cities and departments are adopting strict NFPA guidelines to make their fire departments up to national standards.
Why does this matter here?
NFPA Code 1710-Standard for Organization and Deployment of Fire Suppression Operations, Emergency Medical Operations, and Special Operations to the Public by Career Fire Departments- involves staffing of career fire departments. In this code, the NFPA has used scientific evidence, past history and first hand experience to establish the minimum number of personnel required to safely and effectively operate on a fire scene. NFPA 1710 guidelines say that a first arriving company must consist of 4 fire fighters and arrive within 4 minutes of the initial 911 call. For an initial full alarm assignment (any structure fire) minimum personnel on scene should consist of 15-17 fire fighters arriving on scene within 8 minutes of the initial 911 call.
International City Managers Association (ICMA) Study
Understaffing of fire departments is a nationwide problem. So much so in fact, that the ICMA has conducted studies to determine the effectiveness of fire companies based on staffing. This information was published in Managing Fire Services, 2nd edition. This international organization of city leaders recognizes the importance of a properly staffed fire department. This publication included this information:
1. Fire suppression operations have three basic functions: (1) RESCUE; (2) work involving ladder, forcible entry, and ventilation; and (3) the application of water. To raise ladders, ventilate, search, and RESCUE simultaneously takes quick action by at least FOUR and often EIGHT or more firefighters, each under the supervision of an officer.
2. If about SIXTEEN trained firefighters are not operating at the scene of a working fire within the critical time period, then DOLLAR LOSS and INJURIES are significantly INCREASED as is fire spread.
3. As firefighting tactics were conducted and judged for effectiveness;
5 -person companies were 100% effective.
4 -person companies were 65% effective.
3 -person companies were 38% effective.
Please watch these brief videos discussing firefighter staffing issues.
See how rapid fire spreads. This is why time is of the essence!
Eliminating Collective Bargaining will not Solve Municipal Health Insurance Crisis
Updated On: Dec 12, 2008 (16:41:00)
Eliminating Collective Bargaining will not Solve Municipal Health Insurance Crisis
BOSTON – Responding to Speaker Sal DiMasi's announcement this week that he plans to file a bill that would amend the recently passed Group Insurance Commission (GIC) law, Robert B. McCarthy, president of the Professional Fire Fighters of Massachusetts (PFFM), reiterated the union's strong opposition of taking health insurance out of collecting bargaining and allowing municipalities to unilaterally join the Commonwealth of Massachusetts Group Health Insurance Plan.
"There is no one-size-fits-all approach to healthcare and stripping employees of their collective bargaining rights would roll the clock back 50 years in progress made in labor-management relations in Massachusetts," McCarthy said. "Quality healthcare is of vital importance to not only firefighters, but teachers, police officers and other municipal leaders, and each city and town should be able to decide their best option."
Chapter 67, known as the GIC option, was approved by the Legislature last year and allows municipalities to enter the GIC on October 1st of each year after negotiating the change and with at least 70% approval by public employee unions and retirees. Speaker DiMasi's bill would unilaterally require employees to receive their health insurance through the GIC without union approval.
The PFFM released a white paper, Municipal Employee Health Insurance: The GIC Option, in October which examined the differences between the GIC and municipal plan. Health care benefits are often a key component of an employee's benefit package. A survey of PFFM Locals found that nearly 70% pay more than 20% of the premium cost. In fact almost 20% of the Locals pay 50% of the premium. The white paper suggests alternative cost-saving preventable measures for cities and towns, such as implementing aggressive wellness and disease management programs, joining purchasing groups to pool their expenses, and managing their health claims trust funds.
"Considering our hazardous occupation - with the increase of co-pays, deductibles, utilization fees, outpatient surgery, prescription drugs and mental health cost - a member could see their out-of-pocket cost reach several thousand dollars a year in the unfortunate event that they become sick or injured," McCarthy continued. "As firefighters, we have a moral obligation not to allow this to happen to one of our brothers or sisters. We risk enough from daily exposures to sickness, toxins and hazards; we should not have to risk our financial security!"
As Chapter 67 enters year two, the current law should be maintained so that all municipal employees have a say in their health benefits. "Firefighters were proud to work alongside municipal and state leaders to pass a law that gives communities options and still gives employees a seat at the table. We must have faith in our municipal leaders, their employees, and the local unions, to have the foresight to see the options and ultimately make the decision that is best for them," McCarthy concluded.
The Professional Fire Fighters of Massachusetts represent more than 12,000 professional fire fighters from across the Commonwealth. More information can be found at www.pffm.org. Website members may find the White Paper titled PFFM Position Paper on Health Care Bargaining in the Downloads area under Member Resources.
On Tuesday July 29th the Brookline Fire department presented the Medal of Valor to three of its members. Lt Paul Pender, A/Lt Gerry Murphy, and FF Rick Johnston were the first members of the BFD to receive this new honor. The medals were presented for their heroic actions in saving the life of FF Steve Nelson. FF Nelson was trapped in a fire engulfed room after a backdraft had blown a wall down on him.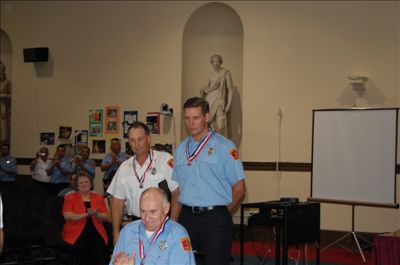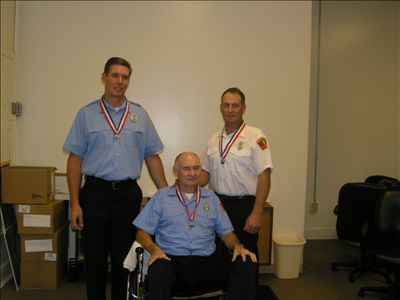 Rick, Gerry, and Paul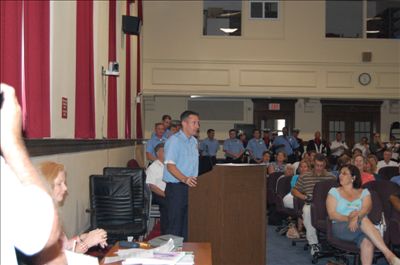 FF Steve Nelson thanking his brother jakes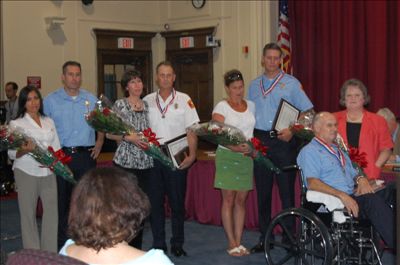 The honorees with their wives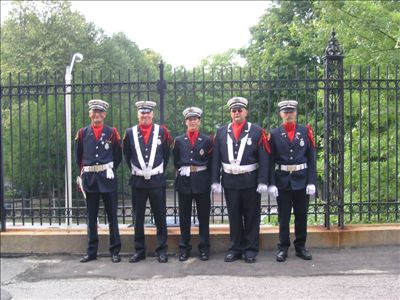 BFD Honor Guard
A propane tank fueled fire quickly spread in a 2.5 story home. 8 Firefighters were injured in the line of duty. One firefighter was rescued by his brother jakes, 3 of whom were injured in the process. The eight injuries came from a series of serious fire consequences. Five were injured from a backdraft, 2 from a ceiling collapse, and 1 from a stairway collapse. All firefighters were treated and released that evening. Some of these have gone back for treatment of more extensive injuries.
Here is a link to more photos and an article.
bostonherald.com/news/regional/general/view.bg
| | | |
| --- | --- | --- |
| | IAFF NEWS HEADLINES | |
| | | |
| | | |
| | | |
| --- | --- | --- |
| | Action Center | |
| | The Jim Riley Snare Drum by Ludwig is named after Jim Riley, son of Former Local 950 President James "Chet" Riley and current drummer for Country Recording Artist Rascal Flatts. Jim is proud of his firefighter family heritage and has designed a drum emblazed with the traditional fire service maltese cross making it ideal for honor guards and fire service buffs alike. | |
| | | |