| | | |
| --- | --- | --- |
| Welcome | | You are not currently logged in. |
| | | |
| --- | --- | --- |
| | | |
| | | |
| | | |
Elderly woman rescued from burning home Hero firefighters battled a three-alarm blaze and billowing smoke to rescue an elderly Brookline woman who had collapsed on her couch yesterday — Captain John Teahan (Ladder 2) found her in the nick of time with the help of a handheld thermal-imaging device. Read More...
Six IAFF Members Awarded Public Safety Medal of Valor
September 29, 2010 – Every year since 2001, the president of the United States has bestowed the Public Safety Medal of Valor, the highest national award for valor by a public safety officer, on deserving men and women. This year, six IAFF members received the honor, including Brookline, MA Local 950 members Paul Pender Jr. and Rick Johnston, Palm Beach County, FL Local 2928 member Edwin O'Berry and Eastern Missouri Local 2665 members Bill Appel, Andrew Neff and Michael Chellis.
Vice President Joe Biden and Attorney General Ed Holder presided over the ceremonies. All fire fighter honorees report that both Biden and Holder were very cordial and gave them their full attention.
Pender and Johnston were recognized for their exceptional courage while responding to an April 16, 2008, house fire. When the call came in, there was a report that someone in a wheelchair was trapped on the second floor.
"By the time we got there, the person in the wheelchair had made it out, but the heavy smoke and excessive heat were causing some other complications," says Johnston. "Fellow Local 950 member Stephen Nelson had been knocked down by a backdraft and was partially buried under debris. We had to go in and get him."
Johnston and Pender put their own lives at risk, moving through heavy flames and smoke, to find Nelson and pull him safely out. All had to be treated for burns after the incident.
From Palm Beach County, Florida, Local 2928 member Edwin O'Berry was honored for his bravery during an incident on April 8, 2009. O'Berry was among other fire fighters changing shifts at Fire Station 31 when he saw an officer hit in the head and his handgun stolen.
"The fire station is located in a very bad area of town," says O'Berry. "In fact, the captain from the previous shift was in the process of telling me that someone tried to steal one of our engines the night before when all of this started happening. I didn't know until later that the officer's attacker was the same person who tried to steal our engine."
O'Berry and fellow Local 2928 member Blum Desravins stepped in to help. O'Berry went to retrieve his personal gun from his car. And Desravins began helping the downed officer out of harms' way.
Meanwhile, the suspect carried the officer's handgun as he ran toward some nearby apartments. O'Berry chased after him. The two eventually ended up face-to-face, at which point O'Berry shot the suspect in self-defense.
The police officer survived, but the suspect later died of his injuries. The Palm Springs Police Department submitted O'Berry's name for the Medal of Valor for his courageous actions. O'Berry also reports that, like other recipients, the White House provided air travel and accommodations for awardees and one family member.
"I wanted to take both of my sons," says O'Berry. "Thankfully, my local offered to pay his way. I really appreciated that."
In Maplewood, Missouri, three Eastern Missouri Local 2665 fire fighters – Bill Appel, Andrew Neff and Michael Chellis— were honored with the Medal of Valor for their actions in July 2008. The fire fighters were among several public safety personnel dispatched to what they believed was a routine vehicle fire.
They arrived to find a truck on fire. When Local 2665 fire fighter Ryan Hummert approached the burning truck with the hose, someone shot him in the head. "The shot seemed to come out of nowhere," says Local 2665 fire fighter Andy Neff. "As we worked on Hummert, it was clear that the situation was not good."
As this was happening a police officer, who had also responded to the scene, was also shot by the gunman. Neff began administering medical attention to the police officer as Local 2665 fire fighters Bill Appel and Micheal Chellis moved Hummert out of the line of fire.
Throughout the incident, Appel kept communication lines open with dispatch so that more police officers and medical assistance could be sent to the scene.
Unfortunately, Hummert did not survive his injuries.
The medal is awarded annually by the president to public safety officers who have exhibited exceptional courage, regardless of personal safety, in the attempt to save or protect human life. To receive the Medal of Valor, public safety officers must be nominated by the chief executive officer of their employing agencies.
(Retired I.A.F.F. member Firefighter Gerry Murphy was also honored.)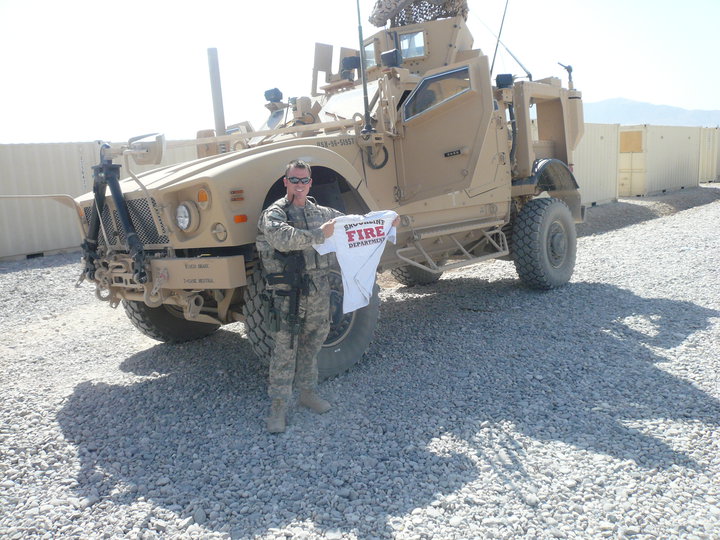 Andrew Amendola, Brookline Police Department
Son of Brookline Fire Captain Joseph Amendola
From One Call of Duty to Another
Brookline firefighter Brian Cadman to serve as crew chief for medical helicopter unit in Iraq.
Leaning back in a swiveling office chair at the Babcock Street firehouse, the young firefighter with bright green eyes jokes around with fellow jakes just back from an inspection while scribbling down his choice of burrito for someone going on a lunch run. Ask him about his impending deployment to Iraq, and he'll tell you he's not worried; he's done this before—if not in a combat zone—and he can do it again.
But the last time Cadman was deployed—working as a helicopter mechanic based in Kuwait in 2005—he didn't have two young daughters at home, or a wife who has to look after them on her own. Ask him about that, and you hear about the burden of being a family man and a soldier in today's military.
But of course, Cadman isn't thinking about himself.
"It's harder on them than it is on us," he insists. "We have each other."
Cadman has served in the National Guard since early 2001, enlisting some six months before two jets crashed into the World Trade Center towers on Sept. 11. He stuck with the job when his contract expired eight years later, even after the country entered two wars that dragged on through the decade. Now, at the age of 31, he's already half way through a full career with the National Guard.
And Cadman said he still loves it. He got more training after his stint in Kuwait, and will spend this deployment serving as a crew chief on a medevac helicopter with Charlie Company, Third Battalion, 126th Aviation Regiment, in the Massachussets National Guard.
The new job means Cadman will spend more time in the air, exposed to enemy fire and the ever-present risk of accidental crashes. Part of his job is to keep and eye on the rear propeller and landing gear, which he can see better from his seat near the back than the pilots at the front of the helicopter. The rest of the time, he'll be working side by side with the unit's medics, spiking IV bags and fetching medical supplies.
It'll be Cadman's first experience in a combat zone, but again, he's not too worried.
"If you watch the news, there's not a lot going on there, " he said with surprising confidence.
But much has changed for Cadman since his first deployment. His oldest daughter—a "post-deployment baby" he said, to the great amusement of the firefighters around him—was born some nine months after his return from Kuwait, and his youngest, Lizzy, is just four months old. Cadman spends plenty of time thinking about what will be happening at home during the year to 15 months he'll be away.
"I'm going to miss first steps, first words probably," he said. "But at the same time, she's probably not going to notice that I'm gone that much."
His oldest daughter, 3-year-old Abby, is a different matter.
"I'm not going to be around, and I just know she's going to be really unhappy," he said. "I worry about that."
Cadman grew up in Waltham, but moved to Brookline to be close to his wife's family a few years ago. He was still serving in Kuwait when he first took the fire service exam to work for the Brookline Fire Department and got the job not long after returning. He's now been working in Station #5 in Coolidge Corner for about two and half years.
Cadman said he was drawn to both jobs in part by the promise of camaraderie with his fellow firefighters and service members, but he also thrives on the feeling of helping other people and being part of something greater than himself. It's not, he insists, about running into burning buildings or flying helicopters over armed insurgents.
"I guess I give the appearance of a danger junkie, but I'm not," he said. "I haven't even gotten a fire yet."
Cadman isn't the first man or woman Brookline has lent to the military since the U.S. invaded Iraq and Afghanistan, either. Sandra DeBow, the town's director of human resources, said she couldn't release information about personnel who have served in the military, but estimated that at least 10 to 15 town employees have been called to active duty since the wars began.
The Fire Department, in particular, has sent several of its members into the military. Chief Peter Skerry said that at least six of his firefighters have served in recent years, representing every branch of the armed forces: Army, Navy, Coast Guard, Air Force and Marines.
Skerry said the fire and armed services have enjoyed a close relationship since just after WWII, when many returning veterans took jobs with their local fire company. And though that link faded over the decades, the chief said he's starting to see more and more firefighters with military experience in his ranks.
"Now we are starting to see a lot more veterans, the wars have been going on so long," he said. "For the most part, they make good fire fighters." he said.
Cadman expects to get his orders for deployment the day before Sept. 11 and could ship out any day after that. He'll spend some time at Ft. Hood in Texas before he goes to Iraq, but he doesn't know where he'll be stationed once he gets there, and probably couldn't say if he knew.
With his second deployment under his belt, Cadman will need to decide whether to leave the service to spend more time with his family, or continue another ten years so he can collect his pension. And though the extra money seems temptingly within reach, the decision gets more difficult with each day his daughters grow older.
But Cadman has no doubts about whether he'll keep the firefighting job that will be waiting for him, as required by federal law, when he comes back from his deployment.
"I'll be doing this until I die," he said. "I love this job."
| | | |
| --- | --- | --- |
| | Action Center | |
| | The Jim Riley Snare Drum by Ludwig is named after Jim Riley, son of Former Local 950 President James "Chet" Riley and current drummer for Country Recording Artist Rascal Flatts. Jim is proud of his firefighter family heritage and has designed a drum emblazed with the traditional fire service maltese cross making it ideal for honor guards and fire service buffs alike. | |
| | | |